24 Apr

Honey and Clover S1 & S2
But I realized why I was lost… It's not because I don't have a map… It's because I don't have a destination…
-Takemoto Yuuta (Honey and Clover)
Honey and Clover S1 & S2
Honey and Clover + specials
Synopsis
Takemoto Yuuta, Mayama Takumi, and Morita Shinobu are college students who share the small apartment. Even though they live in poverty, the three of them are able to obtain pleasure through small things in life. The story follows these characters' life stories as poor college students, as well as their love lives when a short but talented 18 year old girl called Hanamoto Hagumi appears.
Information
Type: TV
Episodes: 24
Status: Finished Airing
Aired: Apr 15, 2005 to Sep 27, 2005
Producers: J.C.Staff, Nomad, Genco, Viz MediaL
Genres: Comedy, Drama, Romance, Josei
Duration: 23 min. per episode
Rating: PG-13 – Teens 13 or older
Honey and Clover 2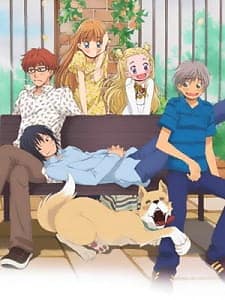 Synopsis
The sequel and final installment to the highly popular series once again delves into the life stories and love lives of Takemoto Yuuta, Mayama Takumi and Morita Shinobu. The story continues where the first season left off, after Takemoto's self-discovery journey around Japan. Of course, the love triangles and tribulations they face will continue, and eventually decide the paths to their future.
Information
Type: TV
Episodes: 12
Status: Finished Airing
Aired: Jun 30, 2006 to Sep 15, 2006
Producers: J.C.Staff, Genco, Viz Media, Sony Music Entertainment
Genres: Drama, Romance, Josei
Duration: 23 min. per episode
Rating: PG-13 – Teens 13 or older